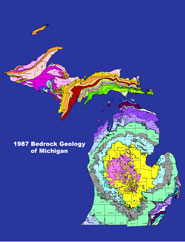 The American Institute of Professional Geologists (AIPG)
was founded in 1963 to certify the credentials of practicing geologists and to advocate on behalf of the profession.
AIPG represents the professional interests of all practicing geoscientists in every discipline.
Its advocacy efforts are focused on the promotion of the role of
geology and geologists in society.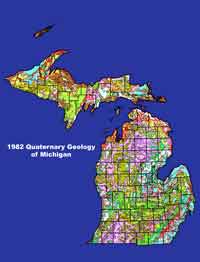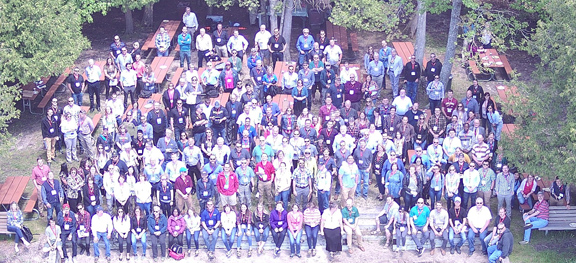 Attendeess at the 9th Annual Summer Technical Workshop. Photo courtesy of Adam Heft.
AIPG Michigan Virtual Forum
Presented by Matt Rousseau, PE, GHD
Webinar was held on May 8th, 2020 - Hosted by GHD
Available on YouTube - https://youtu.be/RUdxFGSqDYI
ABSTRACT
Recent years have brought a new understanding of the potential magnitude and importance of natural LNAPL biodegradation (referred to as Natural Source Zone Depletion or NSZD) in the remediation and management of petroleum-contaminated sites as evidenced by contemporary guidance from the American Petroleum Institute (API) and the Interstate Technology & Regulatory Council (ITRC) in the U.S., and CRC-CARE in Australia. It is now understood that most of the petroleum degradation happening at LNAPL sites will be manifested through observable changes in LNAPL composition over time, soil gas content, and/or vadose zone temperature profiles. The assessment of NSZD is becoming a more standard consideration in LNAPL conceptual site model development and remedial decision-making, particularly since NSZD will represent the dominant LNAPL removal mechanism at many sites. This presentation will discuss the fundamentals of NSZD, provide an overview of the most commonly used methods to quantify it, and consider the different ways it may factor into the management of petroleum-contaminated sites. Case studies will be included from the U.S., Canada and Australia illustrating different ways NSZD rates were quantified, how NSZD rates compared to conventional LNAPL recovery system performance, and how NSZD fit into the overall LNAPL site management strategies.
PRESENTER
Matt Rousseau is a Senior Associate Engineer and NAPL technical lead with GHD based in Windsor, Ontario, Canada. Since 2003, his work has focused on petroleum NAPL sites and the preparation of LNAPL Conceptual Site Models (LCSMs), the design of LNAPL site investigation programs, LNAPL mobility/recoverability/ stability assessments, NSZD evaluations, as well as the development of LNAPL remediation and management strategies with a focus on sustainable risk-based solutions. He co-founded GHD's petroleum NAPL technical group and currently advises on NAPL projects globally. In this capacity, Matt regularly provides training related to LNAPL behavior, site characterization and remediation both internally to GHD staff and externally to clients, regulators, and other practitioners. He has also been involved in the development of LNAPL technical guidance documents in the U.S., Canada, and Australia, most recently as a member of the ITRC LNAPL Update Team (U.S.) and principal author of CRC CARE Technical Report 46 (2020) The role of natural source zone depletion in the management of LNAPL contaminated sites (Australia). Matt has both B.A.Sc. (1997) and M.A.Sc. (2000) degrees in Environmental Engineering from the University of Windsor in Windsor, Ontario, Canada, and is a licensed Professional Engineer (P.Eng.) in the Province of Ontario.
Workshop
June 14-16, 2021
10th Annual AIPG Michigan Section
Technical Workshop
Environmental Risk Management Workshop
The Data Tell the Story
Hello Everyone,
These are trying, unprecedented times for everyone. The AIPG Michigan Section hopes that you and yours are all staying safe and healthy. We wish everyone strength and understand that this is a difficult struggle and especially to those who have lost loved ones, are battling the virus, and those who are vulnerable with underlying health concerns. The economic burden is also immense and affects everyone's livelihood and this is just as troubling. We are concerned for everyone and stand behind you.

It is because of our concern for the health and safety of our colleagues that we are postponing the Environmental Risk Management Workshop until June 14-16, 2021. We believe that this is the right thing to do considering the uncertainty we are experiencing.
Despite having to postpone our in-person event, the Michigan section does believe that working collaboratively, developing partnerships and sharing knowledge are very important, and we are working on ways to bring this to you in a virtual format. Stay tuned for more information to come!
Sara Pearson, CPG and Tammy Rabideau, CPG
Workshop co-chairs