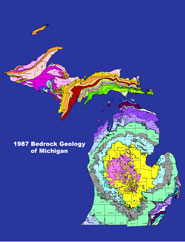 The American Institute of Professional Geologists (AIPG)
was founded in 1963 to certify the credentials of practicing geologists and to advocate on behalf of the profession.
AIPG represents the professional interests of all practicing geoscientists in every discipline.
Its advocacy efforts are focused on the promotion of the role of
geology and geologists in society.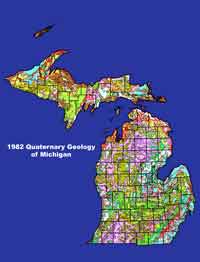 Arch Rock, Mackinac Island, Michigan. - Photo credit: Adam Heft.
November 19, 2019
Triterra - Due Diligence Environmental Consultant (Lansing, MI)
Position Available: Due Diligence Environmental Consultant with 3‐5 years of experience
Triterra is a professional environmental consulting firm specializing in brownfield development, environmental consulting, and natural resource management services. We are currently seeking an environmental consultant specializing in due diligence with 3‐5 years of experience to join our Lansing, Michigan office. The ideal candidate would have enthusiasm for team collaboration and confidence working independently; general understanding of commercial real estate lending and finance; and experience evaluating various types of sites (manufacturing, industrial, mixed‐use, LUST, NPL, etc.).
For more information click here.
---
October 15, 2019
Geologist/Hydrogeologist (Ann Arbor, MI)
LimnoTech has a full-time opening for an experienced geologist/hydrogeologist at our Ann Arbor office, to assist clients with investigation, assessment, management, and remediation of soil and groundwater contaminant impacts.
https://www.limno.com/environmental-engineering-and-science-careers/job-postings/
https://theapplicantmanager.com/jobs?pos=LT135
_____________________________________
Joyce Dunkin, PG, CPG
Senior Geologist/Hydrogeologist
501 Avis Drive, Ann Arbor, MI 48108
Office: 734-332-1200 email:jdunkin@limno.com
LimnoTech www.limno.com
Water Environment | Scientists Engineers
---
September 27, 2019
GHD is looking for a "Geologist Professional" in our Farmington Hills, MI office
Working with the Environmental Contamination, Assessment and Remediation group, this position offers good variety of work and will see you involved in:
Supporting project teams both in the office and in the field on projects associated primarily with: environmental remediation, due diligence, and investigation; field project oversight; and potentially conceptual design projects involving environmental, civil and/or construction disciplines.
Assisting with development of project health and safety documents, environmental reports, client proposals, vendor safety approvals, purchase orders, budget estimates, and invoicing.
Develop and maintain client relationships.
Field data collection and documentation for environmental site investigations.
Coordinate and conduct field sampling programs.
What you will bring to the team:
Masters degree in Hydrogeology or Geology preferred. B.S. in Geology, Civil or Environmental Engineering, Environmental Science or comparable degree program will be considered.
0‐5 years of experience
Strong technical writing skills
Ability to effectively communicate with other technical professionals and subcontractors
Willingness to travel as necessary
Current OSHA 40‐hour HAZWOPER is a plus
Interested?

Please submit your cover letter and resume to the link below.
https://ghdltd.referrals.selectminds.com/jobs/geologist-professional-2072

As a multicultural organization, we encourage individual achievement and recognize the strength of a diverse workforce. GHD is an equal opportunity employer. We provide equal employment opportunities to all qualified employees and applicants without regard to race, creed, religion, national origin, citizenship, color, sex, sexual orientation, gender identity, age, disability, marital status or veteran status.

#LI-MH1