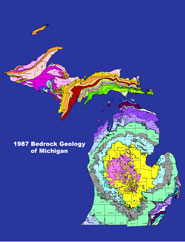 The American Institute of Professional Geologists (AIPG)
was founded in 1963 to certify the credentials of practicing geologists and to advocate on behalf of the profession.
AIPG represents the professional interests of all practicing geoscientists in every discipline.
Its advocacy efforts are focused on the promotion of the role of
geology and geologists in society.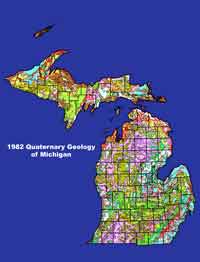 Arch Rock, Mackinac Island, Michigan. - Photo credit: Adam Heft.
Environmental Geologist/Project Manager
Westshore Environmental, Muskegon, Michigan
We love West Michigan and we think you'll agree! Westshore Environmental, a full-service engineering, survey, and environmental consulting company located in Muskegon, is seeking an Environmental Geologist/Project Manager with 5 to 10 years of experience.
Minimum requirements for the position include a B.S. degree in geology, hydrogeology, or related scientific field and a minimum of 5 years of environmental field, technical report writing, and project management experience.
The preferred candidate will have an M.S degree in geology or hydrogeology, 10 years of experience, proven technical report writing skills, the ability to guide field investigations, familiarity with state and federal environmental regulations, a working knowledge of environmental due diligence, experience obtaining permits from State and Federal regulatory agencies, exposure to computer modeling, and proven project management skills. The preferred candidate will also have a proven track record in business development, client communication, staff supervision, timely completion of project deliverables, financial performance tracking, and an interest in partnership opportunities.
Westshore offers a competitive salary and an excellent benefits package. Work will be conducted approximately 60% in the office and 40% in the field and generally will not involve weekends or overnights. We serve a wide variety of clients, and job duties will vary significantly from project to project. Typical job assignments might include the following:
Hydrogeological risk assessment and compliance evaluations
Computer modeling and aquifer evaluations
Phase I/II Environmental Site Assessments (ESAs) for environmental due diligence
Field investigations: soil and groundwater sampling, drilling oversite, soil bore logging, monitoring well installation, soil-gas sampling, demolition oversight
Technical report writing including site investigation reports, Phase I/II ESAs, closure reports, Baseline Environmental Assessments, conceptual site models
If you are interested in joining the Westshore team, please submit a resume to Alan Hinks at service@westshore.com.
Come to West Michigan, where you'll enjoy the low cost of living; a fast-growing economy; a great place to raise a family; outdoor recreation for every season; our freshwater coastline and hundreds of inland lakes; great colleges and universities; and a strong social life with great restaurants and breweries, sports teams, festivals, the arts, and more.
---
Golder Is Hiring!
Ranked #16 in Engineering News Record's Top 200 Environmental Firms, Golder Associates is a respected, employee-owned, global company providing consulting, design, and construction services in our specialist areas of earth, environment, and the related areas of energy. From 160 offices worldwide, our more than 6000 employees work with clients to manage their environmental and engineering activities in a technically sound, economically viable, and socially responsible manner.
Golder Associates is seeking a Geologist/Hydrogeologist to join our team in Farmington Hills, MI office. Successful candidates must have experience in the environmental consulting business and hydrology or hydrogeology.
In this role you will be responsible for:
Performing task and project management assignments associated with environmental site investigations, subsurface investigations and remedial designs, including the preparation of work plans and reports.
Directing and supervising field and office staff and assuming responsibility for staff development on project assignments.
Data management and preparing compliance documents.
Maintaining and growing client base through project add-on work and/or new work while maintaining effective client relations.
Business development and proposal preparation duties as assigned.
Data management and database experience desired.
If you have at least 5 years of experience in the environmental consulting business with demonstrated experience in hydrology and hydrogeology, environmental site assessment, and subsurface investigation projects we encourage you to apply. Our ideal candidate will also possess the following:
BS/M.S. degree in geology, hydrology or hydrogeology.
Experience with the site assessment/surface investigation process including drilling and environmental media sampling techniques and procedures, data interpretation and evaluation, and the preparation of geologic boring logs, geologic cross-sections and groundwater contour maps and iso-concentration maps.
Experience working around active landfill and/or industrial property operations
Experience interacting with clients and managing subcontractors.
Experience in the preparation of technical reports, proposals and cost estimates.
Candidate must have a strong aptitude for meeting deadlines and maintaining project compliance status.
Excellent oral and written communication skills, positive attitude, and ability to work both independently and within groups.
Proficiency in data management practices. Candidate should have competence and aptitude for sound data management practices related to long-term compliance monitoring programs. Database use and development for long-term monitoring programs a plus.
Completed 40-hour OSHA HAZWOPER health and safety training; MSHA training a plus.
Must pass a physical examination and background check as a condition of employment.
Our Staff Benefit from:
An option to purchase shares in Golder Associates
Career and personal development opportunities and support of personal growth
Employee mentoring program
Competitive benefits and remuneration packages
Golder Associates Inc. is a drug free employer and undertakes drug and alcohol testing as allowed by law and pursuant to its Drug Free Workplace Policy. All qualified applicants will receive consideration for employment without regard to race, color, religion, sexual orientation, gender, gender identity, national origin, disability or protected veteran status.
If interested go to Golder.com careers or send resume to LKriger@Golder.com
---
Barr Engineering Co.
Geologist – Project Manager
Grand Rapids, MI
Summary
Barr Engineering Co. is seeking a geologist to join its Grand Rapids office. The person selected for this position will undertake challenging, complex work on projects related to soil and groundwater investigations, site characterization, and evaluation of contaminated sites.
Project work will include managing multi-disciplinary teams; preparing and overseeing technical work plans and cost estimates for investigations of contaminated soil, sediment, groundwater, and vapor intrusion; interpreting data; preparing technical reports; and leading client and regulatory negotiations. Responsibilities may also include overseeing completion of project deliverables, client communication, internal team coordination, mentoring junior staff, and tracking financial performance on projects. Business development activities may include proposal development, networking, and informing clients of Barr's range of services.
Barr is one of the leading consulting firms in the Upper Midwest. We provide engineering and environmental services to clients across the nation and around the world. Barr is proud to have been named a 2016 Great Place to Work based on the results of a national comprehensive employee survey.
NOTE: Job assignments may involve work on waste disposal sites and sites requiring cleanup of hazardous materials. Participation in an OSHA-mandated medical surveillance program will be required, and safety training will be provided before being assigned to work on these sites. Applicants must be able to work in locations that feature the rough terrain typical of construction sites and to enter and work within facilities that include limited accessibility, moving machinery, and other conditions typical of industrial facilities. Fulfillment of the position's responsibilities will require periodic travel. Applicants may be asked to participate in a drug screening program at the request of specific clients.
Minimum Qualifications
Bachelor's degree in geoscience, geology or hydrogeology
8 or more years of experience related to Phase I/Phase II site assessments, groundwater investigations, site characterization, water quality data interpretation, and development of site conceptual models
Demonstrated effectiveness in building working relationships and leading teams of multiple disciplines
Proven project management and leadership skills
Flexible working style and willingness to occasionally modify personal schedules as required to meet project deadlines and client needs
Strong interpersonal, verbal, and written communication skills
Legal authorization to work in the United States without the need for sponsorship
Acceptable driving record
Preferred Qualifications
Master's degree in geology or related field
Project management and leadership experience on complex projects
Demonstrated business development and client relationship development skills
Established network with industry personnel and industry associations
Barr Engineering Co. reserves the right to consider other legitimate, non-discriminatory factors that are not specifically listed. We require proof of eligibility to work in the United States.
Barr is proud to be an affirmative action/equal opportunity employer. All qualified applicants will receive consideration for employment without regard to sex, race, color, religion, gender identity, sexual orientation, age, national origin, disability, protected veteran status, or any other lawfully protected status.
If you are interested in applying to this position please submit an application at www.barr.com/careers