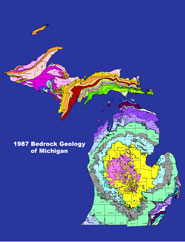 The American Institute of Professional Geologists (AIPG)
was founded in 1963 to certify the credentials of practicing geologists and to advocate on behalf of the profession.
AIPG represents the professional interests of all practicing geoscientists in every discipline.
Its advocacy efforts are focused on the promotion of the role of
geology and geologists in society.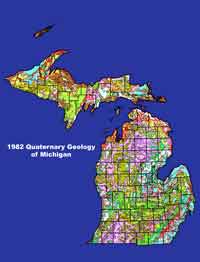 Arch Rock, Mackinac Island, Michigan. - Photo credit: Adam Heft.
August 22, 2019
Job responsibilities include but are not limited to:
Supporting the Phase I and Phase II due diligence
department Manager and Department related
work/job responsibilities.
Preparing proposals, including job scopes and
budgets; project coordination, management of field
activities, report writing, and general project support
and completion functions for projects involving
Phase I due diligence, Phase II subsurface
investigation and hazardous material
characterization
Support for management of clients of the ATC Novi,
MI office and participate in new client/project
development via completion of proposals, client
meetings, etc.
Must be well organized and able to manage multiple
activities in a fast paced consulting environment.
Ability to work well with others.
Abide by ATC's health and safety policies and
procedures.
https://www.appone.com/MainInfoReq.asp?R_ID=2458707&B_ID=44&fid=1&ssbgcolor=18456c&SearchScreenID=3958
---
August 7, 2019
PROJECT GEOLOGIST / PROJECT SCIENTIST
Brighton, Michigan
Hydro-Logic Associates, Inc. (Hydro-Logic) has an immediate opening for a full-time geologist / geoscientist / scientist to join our environmental consulting firm in our Brighton, Michigan office. The successful individual will enjoy a wide variety of challenging geologic, hydrogeologic, water resources, duediligence, contaminant investigation, and natural resource appraisal project work on properties owned/operated by our longtime mining, industrial, municipal, and property development clients in Michigan and elsewhere within the US.
Please contact us at:
Hydro-Logic Associates, Inc.
7281 Grand River
Brighton, Michigan 48114
Contact: Mark Zayatz
Email: hlami@hydrologic-mi.com
Phone: (810) 220-3202
---
May 30, 2019
Kleinfelder - Geologist/Environmental Scientist Jackson, MI Posted: 4/23/2019
Job Number: 51716
Job Category: Professional
Position Type: Full-Time
Job Desc
Details: Kleinfelder has been connecting great people to the best work since 1961. We are engineers, scientists, and construction professionals providing solutions that improve our clients' transportation, water, energy, and other private infrastructure. As a responsive, cross-disciplinary team of bright, curious, and innovative problem-solvers, we are dedicated to doing the right thing, every day, on every project from over 60 offices in the US, Canada and Australia.
Built on a foundation of excellence, Kleinfelder is committed to client-focused solutions. Through our depth of experience and thorough understanding of environmental, regulatory, economic, and civic conditions, we identify and address challenges with innovation and common-sense. Kleinfelder's integrated, award-winning experts collaborate with clients to meet their objectives - from project inception through design and execution. Connecting great people to the best work is our purpose– together, we deliver.
We have an immediate opening for a Geologist or Environmental Scientist to work on environmental assessment and remediation projects in our Jackson, MI office.
Responsibilities include planning and executing field activities, field oversight of subcontractors, authoring technical reports, communicating with staff, ensuring quality execution, and evaluating site data to proactively progress projects toward regulatory closure.
---
May 21, 2019
GHD Junior Geologist / Engineer / Scientist
GHD is one of the world's leading professional services companies operating in the global
markets of water, energy and resources, environment, property and buildings, and transportation. Privately owned by our people, GHD provides engineering, architecture, environmental and construction services to private and public sector clients across five continents. Focused on creating lasting community benefit, our connected global network of over 10,000 people delivers projects with high standards of safety, quality and ethics. Committed to sustainable development, GHD improves the physical, natural and social environments of the many communities in which we operate GHD is growing, and is seeking a Junior Geologist/Engineer/Scientist to join our team at our Farmington Hills, MI office.
---
April 8, 2019
Project Geologist/Engineer III
Location: Grand Haven/Grand Rapids, MI
Lakeshore Environmental, Inc. (LEI) is actively seeking a motivated geologist/geoscientist/environmental engineer to join its Due Diligence team in the Grand Haven or Grand Rapids office. The successful candidate will undertake challenging and interesting work on a wide variety of projects related to the investigation, evaluation, and remediation of contaminated sites. The ideal candidate will be a self-motivated employee who can function independently and as part of a fast-paced team.
---
April 4, 2019
AEM Group has an opening for the following position:
Environmental Engineer/Geologist/Scientist position
Environmental Engineer, Geologist or Scientist is a full-time position to support assigned project managers, engineers, geologists, or other technical positions. They perform field investigation work in support of site assessment and remediation projects, assist in the preparation of draft Phase I and Phase II Environmental Site Assessment reports, participate in design, implementation and reporting for assessment and remediation projects and other related environmental projects. They also assist in the completion of data and literature review work for geologic and hydrogeologic characterization of sites for environmental media including air, groundwater, and surface water at hazardous waste and other environmental contamination sites.