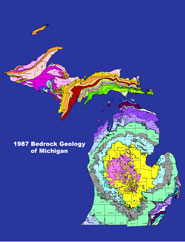 The American Institute of Professional Geologists (AIPG)
was founded in 1963 to certify the credentials of practicing geologists and to advocate on behalf of the profession.
AIPG represents the professional interests of all practicing geoscientists in every discipline.
Its advocacy efforts are focused on the promotion of the role of
geology and geologists in society.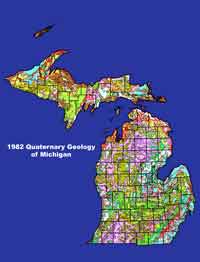 Arch Rock, Mackinac Island, Michigan. - Photo credit: Adam Heft.
Job Listings (8/24/2017)
Director of Environmental Services
Wightman & Associates, Inc.
Director of Environmental Services
Location: Allegan or Portage
Summary: The Director of Environmental is responsible for the development and management of the Environmental Department. The Director assists in corporate planning, business development and manpower coordination and management. Works with the continuously expanding team of professionals providing services in Southwest Michigan and Northwest Indiana.
Essential Functions:
Manage technical personnel including assignments of personnel and priorities
Mentor, set performance standards, and review performance of all technical staff
Assist in business development efforts for the environmental markets including Benton Harbor, Kalamazoo, and Allegan/Grand Rapids
Monitor performance and direct necessary corrective actions on each project from the standpoint of client satisfaction, profitability and timeliness
Project management of selected projects including budgeting, scheduling, client contact and technical control
Develop and implement technical standards to ensure the technical adequacy and consistency of all work performed
Coordinate design and construction activities to assure that field designs are technically adequate and that design errors discovered in the field are not repeated on future jobs
Required Skills & Behaviors
Proven record of developing client relationships and a book of business
Excellent communication, organization and writing skills
Strong management and leadership skills
Ability to balance a broad scope of activities
Broad computer knowledge and Microsoft Office products
Organizational Relationships
Reports to President and Regional Directors
Required Education/Experience:
Bachelor's degree in Environmental Science, Environmental Engineering, Geology, or related field
Knowledge of Indiana and Michigan Environmental regulations
10+ years of experience in the environmental field
Preferred Education/Experience:
Master's degree in Business, Environmental Science, Environmental Engineering, Geology, or related field
5+ years of experience consulting, managing projects and staff
Travel: Local travel required
To apply: please email resume to hr@wightman-assoc.com