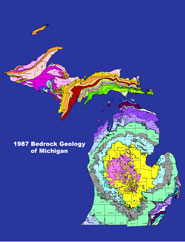 The American Institute of Professional Geologists (AIPG)
was founded in 1963 to certify the credentials of practicing geologists and to advocate on behalf of the profession.
AIPG represents the professional interests of all practicing geoscientists in every discipline.
Its advocacy efforts are focused on the promotion of the role of
geology and geologists in society.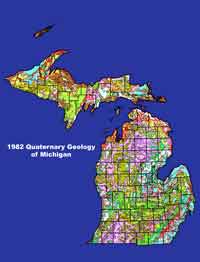 Arch Rock, Mackinac Island, Michigan. - Photo credit: Adam Heft.
October 15, 2019
Geologist/Hydrogeologist (Ann Arbor, MI)
LimnoTech has a full-time opening for an experienced geologist/hydrogeologist at our Ann Arbor office, to assist clients with investigation, assessment, management, and remediation of soil and groundwater contaminant impacts.
https://www.limno.com/environmental-engineering-and-science-careers/job-postings/
https://theapplicantmanager.com/jobs?pos=LT135
_____________________________________
Joyce Dunkin, PG, CPG
Senior Geologist/Hydrogeologist
501 Avis Drive, Ann Arbor, MI 48108
Office: 734-332-1200 email:jdunkin@limno.com
LimnoTech www.limno.com
Water Environment | Scientists Engineers
---
September 27, 2019
GHD is looking for a "Geologist Professional" in our Farmington Hills, MI office
Working with the Environmental Contamination, Assessment and Remediation group, this position offers good variety of work and will see you involved in:
Supporting project teams both in the office and in the field on projects associated primarily with: environmental remediation, due diligence, and investigation; field project oversight; and potentially conceptual design projects involving environmental, civil and/or construction disciplines.
Assisting with development of project health and safety documents, environmental reports, client proposals, vendor safety approvals, purchase orders, budget estimates, and invoicing.
Develop and maintain client relationships.
Field data collection and documentation for environmental site investigations.
Coordinate and conduct field sampling programs.
What you will bring to the team:
Masters degree in Hydrogeology or Geology preferred. B.S. in Geology, Civil or Environmental Engineering, Environmental Science or comparable degree program will be considered.
0‐5 years of experience
Strong technical writing skills
Ability to effectively communicate with other technical professionals and subcontractors
Willingness to travel as necessary
Current OSHA 40‐hour HAZWOPER is a plus

Interested?

Please submit your cover letter and resume to the link below.
https://ghdltd.referrals.selectminds.com/jobs/geologist-professional-2072


As a multicultural organization, we encourage individual achievement and recognize the strength of a diverse workforce. GHD is an equal opportunity employer. We provide equal employment opportunities to all qualified employees and applicants without regard to race, creed, religion, national origin, citizenship, color, sex, sexual orientation, gender identity, age, disability, marital status or veteran status.

#LI-MH1
---
September 10, 2019
Project Manager / Scientist (LUST)
Berkley, MI
PM Environmental, Inc. is looking for a Project Manager/Scientist to join our Berkley, MI Retail Petroleum Services (LUST) team!
This position consists of office duties with some field duties. Office duties consist of project management and coordination, client interaction, report writing, and budget and data management. Field duties include site visits, subcontractor management, data collection and evaluation, and sampling of soil, water, and/or soil gas/vapor.
Desired Qualifications include:
Seven (7) to ten (10) years of Leaking Underground Storage Tank experience (LUST/Part 213)
Bachelor's degree in Geology, Environmental Science, Engineering, or a related field.
Knowledge of Michigan's environmental regulations
Mix of office experience (Initial Assessment Reports, Final Assessment Reports, Closure Reports, project & budget management, etc) and field experience (subcontractor oversight, soil/GW sampling, etc)
Excellent communication, analytical, organization and time management skills are critical to success in this position
Must be detail-oriented and a team player
A valid driver's license is required
Ability to work in various settings and climates
Ability to work flexible hours and be available for travel
To apply, visit http://pmenv.com/jobs and fill out an application.
---
August 22, 2019
Job responsibilities include but are not limited to:
Supporting the Phase I and Phase II due diligence
department Manager and Department related
work/job responsibilities.
Preparing proposals, including job scopes and
budgets; project coordination, management of field
activities, report writing, and general project support
and completion functions for projects involving
Phase I due diligence, Phase II subsurface
investigation and hazardous material
characterization
Support for management of clients of the ATC Novi,
MI office and participate in new client/project
development via completion of proposals, client
meetings, etc.
Must be well organized and able to manage multiple
activities in a fast paced consulting environment.
Ability to work well with others.
Abide by ATC's health and safety policies and
procedures.
https://www.appone.com/MainInfoReq.asp?R_ID=2458707&B_ID=44&fid=1&ssbgcolor=18456c&SearchScreenID=3958
---
August 7, 2019
PROJECT GEOLOGIST / PROJECT SCIENTIST
Brighton, Michigan
Hydro-Logic Associates, Inc. (Hydro-Logic) has an immediate opening for a full-time geologist / geoscientist / scientist to join our environmental consulting firm in our Brighton, Michigan office. The successful individual will enjoy a wide variety of challenging geologic, hydrogeologic, water resources, duediligence, contaminant investigation, and natural resource appraisal project work on properties owned/operated by our longtime mining, industrial, municipal, and property development clients in Michigan and elsewhere within the US.
Please contact us at:
Hydro-Logic Associates, Inc.
7281 Grand River
Brighton, Michigan 48114
Contact: Mark Zayatz
Email: hlami@hydrologic-mi.com
Phone: (810) 220-3202
---
May 30, 2019
Kleinfelder - Geologist/Environmental Scientist Jackson, MI Posted: 4/23/2019
Job Number: 51716
Job Category: Professional
Position Type: Full-Time
Job Desc
Details: Kleinfelder has been connecting great people to the best work since 1961. We are engineers, scientists, and construction professionals providing solutions that improve our clients' transportation, water, energy, and other private infrastructure. As a responsive, cross-disciplinary team of bright, curious, and innovative problem-solvers, we are dedicated to doing the right thing, every day, on every project from over 60 offices in the US, Canada and Australia.
Built on a foundation of excellence, Kleinfelder is committed to client-focused solutions. Through our depth of experience and thorough understanding of environmental, regulatory, economic, and civic conditions, we identify and address challenges with innovation and common-sense. Kleinfelder's integrated, award-winning experts collaborate with clients to meet their objectives - from project inception through design and execution. Connecting great people to the best work is our purpose– together, we deliver.
We have an immediate opening for a Geologist or Environmental Scientist to work on environmental assessment and remediation projects in our Jackson, MI office.
Responsibilities include planning and executing field activities, field oversight of subcontractors, authoring technical reports, communicating with staff, ensuring quality execution, and evaluating site data to proactively progress projects toward regulatory closure.
---
May 21, 2019
GHD Junior Geologist / Engineer / Scientist
GHD is one of the world's leading professional services companies operating in the global
markets of water, energy and resources, environment, property and buildings, and transportation. Privately owned by our people, GHD provides engineering, architecture, environmental and construction services to private and public sector clients across five continents. Focused on creating lasting community benefit, our connected global network of over 10,000 people delivers projects with high standards of safety, quality and ethics. Committed to sustainable development, GHD improves the physical, natural and social environments of the many communities in which we operate GHD is growing, and is seeking a Junior Geologist/Engineer/Scientist to join our team at our Farmington Hills, MI office.