The American Institute of Professional Geologists (AIPG)
was founded in 1963 to certify the credentials of practicing geologists and to advocate on behalf of the profession.
AIPG represents the professional interests of all practicing geoscientists in every discipline.
Its advocacy efforts are focused on the promotion of the role of
geology and geologists in society.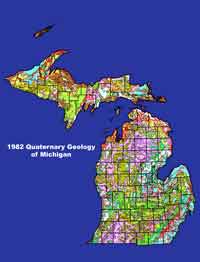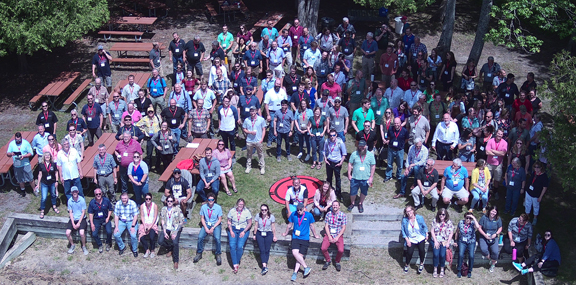 Attendeess at the 11th Annual Summer Technical Workshop. Photo courtesy of Adam Heft.
Workshop
June 14-15, 2022
11th Annual AIPG Michigan Section
Technical Workshop
Environmental Risk Management Workshop
The American Institute of Professional Geologists (AIPG) Michigan Section is calling for abstracts for the 2022 Environmental Risk Management Workshop to be held June 14-15, 2022, at the Ralph A. MacMullen Conference Center in Roscommon, Michigan.
The Michigan Section is looking forward to hosting this event in person in 2022! We provide high quality technical training that focuses on practical application and case studies for environmental professionals. We bring together a broad base of topic expertise and perspectives from the consulting, regulatory, academic, and industry sectors. This unique workshop forum promotes collaboration and partnership to solve complex environmental problems in a peer-to-peer learning format.
This year our goal is to start a conversation about the Best Practices for Groundwater Remediation and Management at the workshop. Hazardous substances in groundwater pose a vastly complex set of challenges. Questions about the hydrogeologic setting, contaminant properties and characteristics, risks to possible receptors, and remedial and management options are raised. The standard approach more than 30 years ago was to pump and treat contaminated groundwater to remediate and mitigate the risk. Thanks to innovations applied by scientists and engineers at sites worldwide, whether adapted from other industries or original concepts, there are many more approaches being applied today as each site with groundwater contamination poses a unique set of circumstances and challenges.
Groundwater is a vital natural resource, and trillions of dollars and entire careers are spent on tackling issues related to groundwater contamination. We have learned that thoughtful and intentional approaches or strategic remediation and management are needed to address contaminated groundwater. Strategic remediation and management include a wholistic consideration of the problem evaluating the aquifer system, it's uses, and groundwater governance when determining what the risks are and how best to remedy them. Calculation of the environmental footprint of remedial alternatives, especially with the environmental, social, and corporate governance is an important consideration for organizations.
We are setting out to discuss the innovations in strategic groundwater remediation and management and best practices at the 2022 AIPG Michigan Section's Environmental Risk Management Workshop.
The following are some topical concepts for which we are seeking abstracts:
Innovative Groundwater Remediation Approaches: in-situ/ex-situ methods, complex hydrogeologic settings, treatment trains, tools for calculating environmental footprint
Managing Risks due to Groundwater Contamination: land and resource use restrictions, point of use treatment, alternate water sources • Data Collection and Analysis: data collection tools, groundwater modeling, GIS applications
Contaminant Fate and Transport: hydrogeochemical evaluations, phase separation, receptor identification
Groundwater Governance: groundwater management policies, long-term aquifer use planning, groundwater resource inventory needs
Emerging Contaminants: Per and poly-fluoroalkyl substances (PFAS), identification of new contaminants, remediation with commingled plumes
Closure: Best approaches to closure, risk communication, long term management of contaminants, life cycle cost analysis of remediation alternatives (Cost to Closure of remedial actions)
Research Needs: Accessibility to information, type of data, groundwater research projects In addition to abstracts for case studies, the Michigan Section is calling for demonstration/short course abstracts that provide in-depth opportunities for learning.
The short courses will be two hours, longer than the standard case study presentations. Standard presentations are 30-40 minutes in length. Abstracts for outdoor demonstrations are also welcome.
June 15-17, 2021
10th Annual AIPG Michigan Section
Technical Workshop
Environmental Risk Management Workshop
The Data Tell the Story
Register - https://whova.com/web/aipgm_202106/
Hello Everyone!
The AIPG Michigan Section is pleased to announce the opening of registration for the 10th AIPG Michigan Environmental Risk Management Workshop! This free event is being held virtually on June 15, 16 and 17, 2021 through the Whova App featuring presentations, exhibitor and sponsor opportunities, and meet-ups and networking opportunities.
This year's theme, The Data Tell the Story, will deliver excellent examples of data tools, data applications and data and remediation applications to solve complex, environmental remediation and risk management issues. Collaboration and partnership are key to solving these problems and are promoted as part of this workshop series with networking opportunities to connect practitioners. Attendees are encouraged to organize meet-ups in the Whova App as well as join in the networking sessions.
See the agenda here: https://whova.com/portal/webapp/aipgm_202106/
Registration link: https://whova.com/portal/registration/aipgm_202106/
This year, out of concern for the health and well-being of our colleagues, we are hosting the event via the virtual Whova and Zoom platforms and appreciate the support of our presenters for the event. We are disappointed that we are not holding the event in person this year at the Ralph A. MacMullan Conference Center on the beautiful shores of Higgins Lake in Roscommon, Michigan. We have big plans for next year's event that we intend to host in person! If you have joined us before, you know that our networking is beyond comparison. If you're game, we are already planning our networking kickoff for next year that will include attendee's baby or high school graduation photos. If you have not joined us before, start making plans to come to Michigan in mid-June 2022 or if economic geology and mining are more your interest, the AIPG National 2022 Annual Meeting will be held in Marquette, Michigan in August 2022! Either way, northern Michigan is a win and a great summer destination! Stay tuned.
In the meantime, we invite you to join us this year for the virtual event. We are offering sponsor opportunities which includes placing your company logo on the Sponsor Center in the Whova App, the AIPG Michigan Section website, and in the Michigan Section's "Geologically Speaking" newsletter for $100. We are offering Exhibitor space on the Whova App that provides greater outreach opportunities including space to set up videos, giveaways, and other informational content to share with attendees and encourage them to visit your space. The exhibitor space is available for $300.
Because AIPG has received such strong support for this event in the past, we feel that during these tough times during the pandemic that it is important to support our community of professionals and students by holding this event for free this year. Proceeds from the sponsor/exhibitor support will cover technology costs and any additional proceeds will be directed to AIPG's educational support efforts for students in the geosciences. AIPG provides support annually upwards of $20,000 for K-12 education grants, college scholarships, and university student chapter support for learning opportunities.
In addition to sponsor/exhibitor support, the AIPG Michigan Section has also set up a donation opportunity where all dollars donated will be directed to the AIPG Michigan's educational support funds on our Eventbrite page. AIPG is a non-profit and donations are tax deductible.
Donate to AIPG Geoscience Education funding efforts: https://www.eventbrite.com/e/aipg-environmental-risk-management-workshop-tickets-154335994113
We appreciate your support of our event, AIPG's scholarship program, and all who work together to solve complex environmental issues every day.
See you in June!
Sara Pearson, CPG and Tammy Rabideau, CPG
AIPG Michigan Workshop Co-Chairs
---
AIPG Michigan Virtual Forum
Presented by Matt Rousseau, PE, GHD
Webinar was held on May 8th, 2020 - Hosted by GHD
Available on YouTube - https://youtu.be/RUdxFGSqDYI
ABSTRACT
Recent years have brought a new understanding of the potential magnitude and importance of natural LNAPL biodegradation (referred to as Natural Source Zone Depletion or NSZD) in the remediation and management of petroleum-contaminated sites as evidenced by contemporary guidance from the American Petroleum Institute (API) and the Interstate Technology & Regulatory Council (ITRC) in the U.S., and CRC-CARE in Australia. It is now understood that most of the petroleum degradation happening at LNAPL sites will be manifested through observable changes in LNAPL composition over time, soil gas content, and/or vadose zone temperature profiles. The assessment of NSZD is becoming a more standard consideration in LNAPL conceptual site model development and remedial decision-making, particularly since NSZD will represent the dominant LNAPL removal mechanism at many sites. This presentation will discuss the fundamentals of NSZD, provide an overview of the most commonly used methods to quantify it, and consider the different ways it may factor into the management of petroleum-contaminated sites. Case studies will be included from the U.S., Canada and Australia illustrating different ways NSZD rates were quantified, how NSZD rates compared to conventional LNAPL recovery system performance, and how NSZD fit into the overall LNAPL site management strategies.
PRESENTER
Matt Rousseau is a Senior Associate Engineer and NAPL technical lead with GHD based in Windsor, Ontario, Canada. Since 2003, his work has focused on petroleum NAPL sites and the preparation of LNAPL Conceptual Site Models (LCSMs), the design of LNAPL site investigation programs, LNAPL mobility/recoverability/ stability assessments, NSZD evaluations, as well as the development of LNAPL remediation and management strategies with a focus on sustainable risk-based solutions. He co-founded GHD's petroleum NAPL technical group and currently advises on NAPL projects globally. In this capacity, Matt regularly provides training related to LNAPL behavior, site characterization and remediation both internally to GHD staff and externally to clients, regulators, and other practitioners. He has also been involved in the development of LNAPL technical guidance documents in the U.S., Canada, and Australia, most recently as a member of the ITRC LNAPL Update Team (U.S.) and principal author of CRC CARE Technical Report 46 (2020) The role of natural source zone depletion in the management of LNAPL contaminated sites (Australia). Matt has both B.A.Sc. (1997) and M.A.Sc. (2000) degrees in Environmental Engineering from the University of Windsor in Windsor, Ontario, Canada, and is a licensed Professional Engineer (P.Eng.) in the Province of Ontario.
---