The American Institute of Professional Geologists (AIPG)
was founded in 1963 to certify the credentials of practicing geologists and to advocate on behalf of the profession.
AIPG represents the professional interests of all practicing geoscientists in every discipline.
Its advocacy efforts are focused on the promotion of the role of
geology and geologists in society.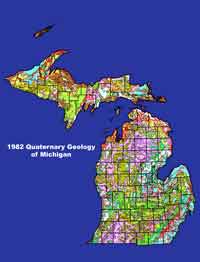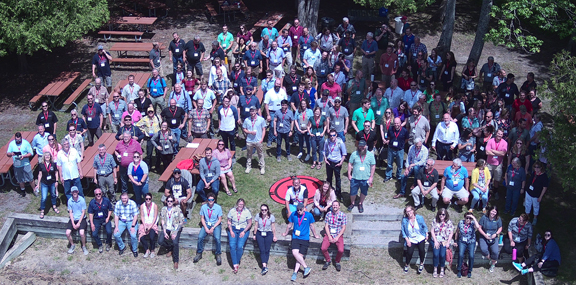 Attendeess at the 11th Annual Summer Technical Workshop. Photo courtesy of Adam Heft.
Workshop
June 13-14, 2023
12th Annual AIPG Michigan Section
Technical Workshop
Environmental Risk Management Workshop

---
June 14-15, 2022
11th Annual AIPG Michigan Section
Technical Workshop
Environmental Risk Management Workshop
The American Institute of Professional Geologists (AIPG) Michigan Section is calling for abstracts for the 2022 Environmental Risk Management Workshop to be held June 14-15, 2022, at the Ralph A. MacMullen Conference Center in Roscommon, Michigan.
The Michigan Section is looking forward to hosting this event in person in 2022! We provide high quality technical training that focuses on practical application and case studies for environmental professionals. We bring together a broad base of topic expertise and perspectives from the consulting, regulatory, academic, and industry sectors. This unique workshop forum promotes collaboration and partnership to solve complex environmental problems in a peer-to-peer learning format.
This year our goal is to start a conversation about the Best Practices for Groundwater Remediation and Management at the workshop. Hazardous substances in groundwater pose a vastly complex set of challenges. Questions about the hydrogeologic setting, contaminant properties and characteristics, risks to possible receptors, and remedial and management options are raised. The standard approach more than 30 years ago was to pump and treat contaminated groundwater to remediate and mitigate the risk. Thanks to innovations applied by scientists and engineers at sites worldwide, whether adapted from other industries or original concepts, there are many more approaches being applied today as each site with groundwater contamination poses a unique set of circumstances and challenges.
Groundwater is a vital natural resource, and trillions of dollars and entire careers are spent on tackling issues related to groundwater contamination. We have learned that thoughtful and intentional approaches or strategic remediation and management are needed to address contaminated groundwater. Strategic remediation and management include a wholistic consideration of the problem evaluating the aquifer system, it's uses, and groundwater governance when determining what the risks are and how best to remedy them. Calculation of the environmental footprint of remedial alternatives, especially with the environmental, social, and corporate governance is an important consideration for organizations.
We are setting out to discuss the innovations in strategic groundwater remediation and management and best practices at the 2022 AIPG Michigan Section's Environmental Risk Management Workshop.
The following are some topical concepts for which we are seeking abstracts:
Innovative Groundwater Remediation Approaches: in-situ/ex-situ methods, complex hydrogeologic settings, treatment trains, tools for calculating environmental footprint
Managing Risks due to Groundwater Contamination: land and resource use restrictions, point of use treatment, alternate water sources • Data Collection and Analysis: data collection tools, groundwater modeling, GIS applications
Contaminant Fate and Transport: hydrogeochemical evaluations, phase separation, receptor identification
Groundwater Governance: groundwater management policies, long-term aquifer use planning, groundwater resource inventory needs
Emerging Contaminants: Per and poly-fluoroalkyl substances (PFAS), identification of new contaminants, remediation with commingled plumes
Closure: Best approaches to closure, risk communication, long term management of contaminants, life cycle cost analysis of remediation alternatives (Cost to Closure of remedial actions)
Research Needs: Accessibility to information, type of data, groundwater research projects In addition to abstracts for case studies, the Michigan Section is calling for demonstration/short course abstracts that provide in-depth opportunities for learning.
The short courses will be two hours, longer than the standard case study presentations. Standard presentations are 30-40 minutes in length. Abstracts for outdoor demonstrations are also welcome.
---
June 15-17, 2021
10th Annual AIPG Michigan Section
Technical Workshop
Environmental Risk Management Workshop
The Data Tell the Story
---